Ice Bong (9mm Thick) with Pre-Cooler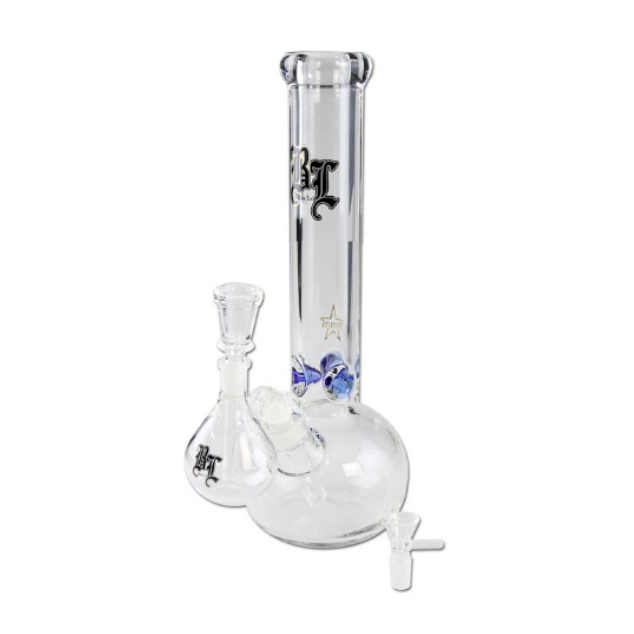 Send this to a friend
Ice Bong (9mm Thick) with Pre-Cooler
Product details
What makes a 'Super Hero'? Super heroes are strong, have special abilities and are hard to defeat - just like this bong from 'Black Leaf'. Fat 9mm wall thickness and a bi-stable grinding make the water pipe made of the best borosilicate glass mega robust and resistant. Due to its weight it stands absolutely stable and can take a lot. And the special skills? There is the ability to produce many water and air swirls with the diffuser adapter to filter and cool the smoke for smoother inhalation. Pre-cooling already exists when the ash catcher also extending the smoke path is used. On request, there is even more smoke cooling because the ice chamber can host many ice cubes. The super bong also catches the trickling ash from the big herbal bowl because with its strength, the bong carries the ash-catcher in front of it without any effort or danger of tipping over. In addition, there is a second lift-off bowl. But the special super power is that this bong can beam its user into other worlds!
Additional Information




Brand
Black Leaf
Material

Borosilicate Glass

Height

300mm

Diameter

130/51mm

Standard grinding

SG 19bistable/14 (18,8mm/14,4mm)

Wallthickness

9mm

Ice

yes
Kickhole

no
Perculator/Diffusor

Slit Diffusor

Print

yes
Oil

no

Colour

clear/blue

Supplies

Pre-Cooler SG 2x14 (14,5mm), Angle 45°

Adapter Chillum SG 14

Info
Diffuser Slit Adapter L 115mm

Product reviews
Be the first to review this product.