Mercury Boxed Bong for Herbs/Oil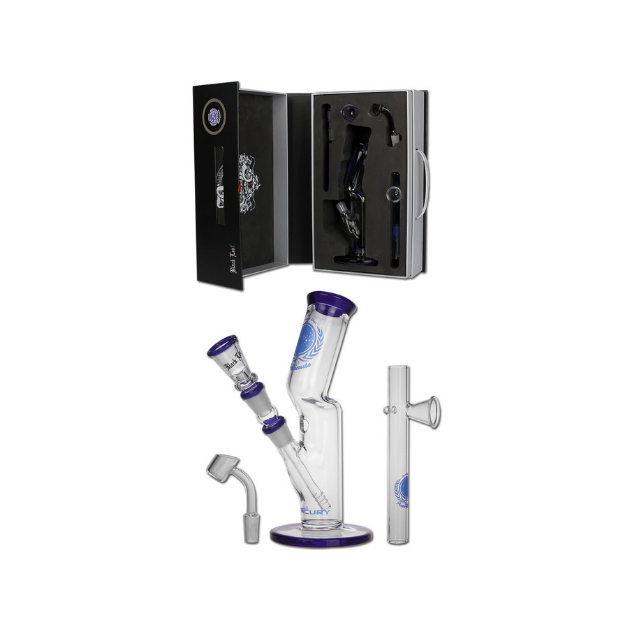 Send this to a friend
Mercury Boxed Bong for Herbs/Oil
Product details
The two-in-one set consists of a 'Mercury' bong from the 'Astronauts' series with a herbal bowl and a quartz banger with 45° angle with clear polish as well as a 'Spaced out Astronauts' glass shotgun for the quick hit in-between. Every glass part is stowed safely in a hard foam bed, packed in a hard carton box with carrying strap for safe transportation! 
Thanks to the banger, the 'Mercury' is turned into an oil-rig for smoking valuable oil, wax or rosin. Place the banger on the bong and heat the pan with a burner. Allow to cool briefly, then apply the oil or wax with a dabber to the pan. Then inhale the resulting steam and enjoy!
The banger is made of quartz glass which, in contrast to borosilicate glass, is permanently heat-resistant - the heat is kept better and longer, which is very important for dabbing.
Attention:
The oil bowl/oil nail must be heated only at the pan, otherwise the standard grinding can break in cause of the expansion of the material.
Additional Information

 

| | |
| --- | --- |
| Brand | Black Leaf |
| Material | Borosilicate Glass |
| Height | 230mm |
| Diameter | 38mm |
| Standard grinding | SG 2x14 (14,4mm) |
| Wallthickness | 3.2mm |
| Ice | no |
| Kickhole | yes |
| Perculator/Diffusor | Slit Diffusor |
| Print | Black Leaf Astronauts Logo |
| Oil | yes |
| Colour | clear/blue |
Product reviews
Be the first to review this product.