Straight Tube Mushroom Ice Bong 10-Arm Percolator
Straight Tube Mushroom Ice Bong 10-Arm Percolator - BLAZE GLASS
Straight Tube Mushroom Ice Bong 10-Arm Percolator - BLAZE GLASS
---
---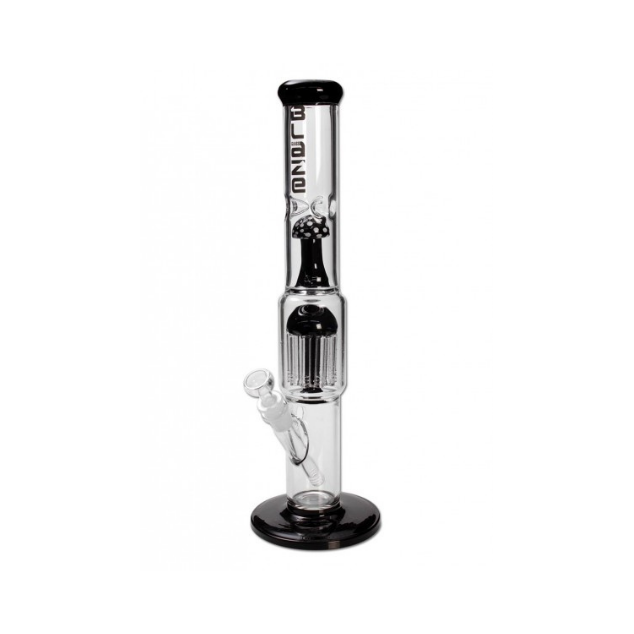 Send this to a friend
Straight Tube Mushroom Ice Bong 10-Arm Percolator
Product details
The handcrafted water pipe 'Mushroom' of our premium brand 'Blaze Glass' fascinates with the striking and decorative mushroom in the pull tube. It serves as a splash guard for the 10-arms tree percolator underneath which ensures proper water and smoke swirling. It is important to fill this pipe with water through the opening of the chillum as well as through the mouthpiece. This robust bong is made of best borosilicate glass with 5mm wall thickness.

The bowl for herbs has a passage of 8mm, the corresponding plug adapter has diffuser slots for the first smoke filtering and cooling. A big round base ensures the necessary stability and ice spikes keep ice cubes securely above the mushroom. The silver 'Blaze Glass' print is discreetly attached to the front. A kickhole completes the extraordinary glass pipe which guarantees a hit with full steam!
Additional Information




| | |
| --- | --- |
| Brand | Blaze Glass |
| Material | Borosilicate Glass |
| Height | 420mm |
| Diameter | 64/50mm |
| Standard grinding | SG 14,4mm |
| Wallthickness | 5mm |
| Ice | yes |
| Kickhole | yes |
| Perculator/Diffusor | 10-Arm Tree Percolator |
| Coloured | yes |
| Print | yes |
| Oil | no |
| Colour | clear/black |

Feefo Reviews

'Blaze Glass' Straight Tube 'Mushroom' Ice Bong 10-Arm Percolator

This bong is very sturdy and overall of high quality. It delivers a smooth smoke experience. I love it and look forward to many relaxed evenings!
Product reviews
1 review
5 stars for this absolutely gorgeous piece! Place for ice and a beautiful long stem. Smokes like a dream. Even watching the smoke climb the chamber is something to behold. Thank you so much, Pass The Dutch