DynaVap M 2021 Review. Stainless Steel Vaporizer
For the past five years, DynaVap has been launching top-tier mechanical vaporizers. The latest model, the DynaVap M 2021 is a compact and feature-rich vaporizer, doing extremely well. The M 2021 model is a refreshing vaporizer with an amazing design and built for the ultimate vaping experience. Although it has a compact build, this vaporizer is made out of robust material, and it has powerful capabilities. It's mechanically heated, which allows you to apply the temperature range ideal for your vaping needs. The DynaVap M 2021 features a well-designed heating chamber that achieves maximum conversion without any herb wastage.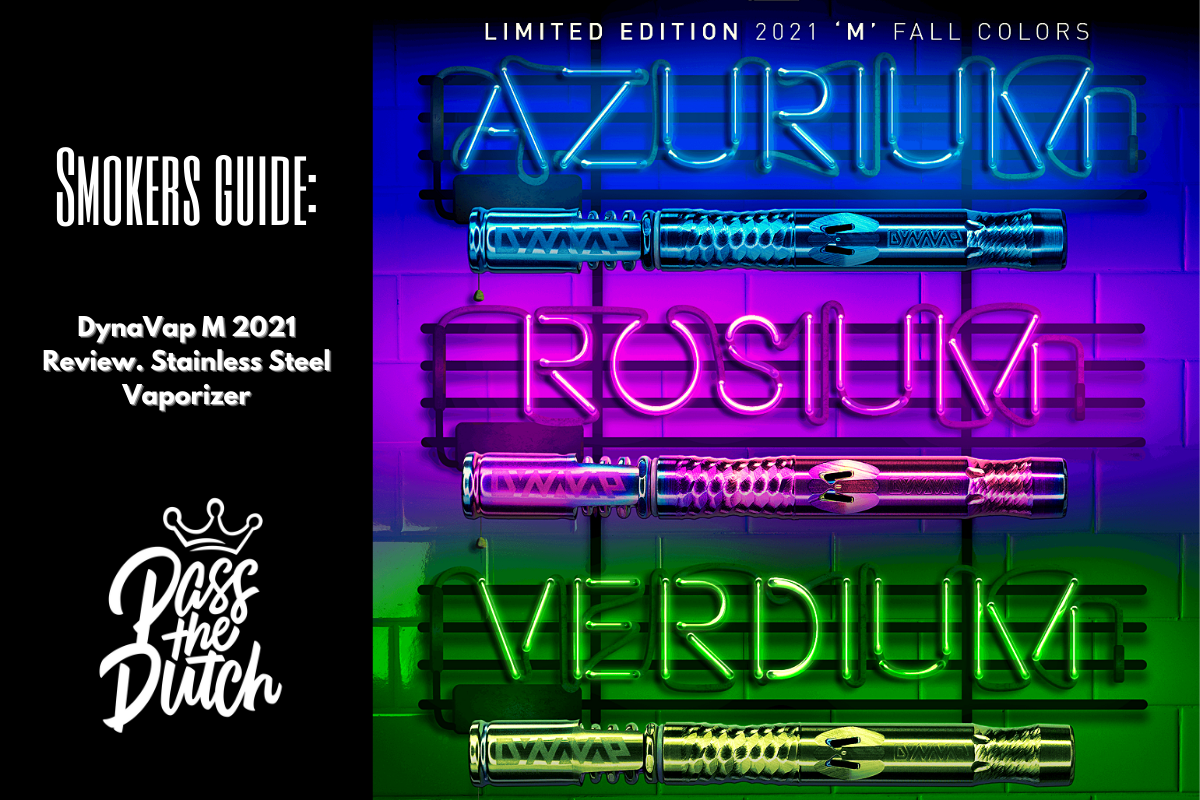 DynaVap M 2021 New Features
DynaVap has been launching upgraded vaporizers over the past five years. The DynaVap M 2021 is the latest model, and it includes some fresh, innovative features. This vaping device is optimized for vapor quality, user-friendliness, and sleek build.
Compact build: this latest model takes the meaning of sleek to a new level. Constructed with shining and cool medical-grade stainless steel, it has a slim shape and perfect contours.
Amazing airflow: the airflow filter has been modified, and various adjustments have been made to give you the power to control your hits and enhance your vaping experience.
Climate-friendly: this vaping device has been optimized for use in different climates. It's ideal for travel, and it helps you enjoy the flavorful hits of your favorite dry herb.
Pros of the DynaVap M 2021
• High portability. This device has a compact and stylish design. Its body isn't longer than four inches, thus allowing for discreet vaping.
• Comfort and ease of use. Designed for high performance, the DynaVap is made of medical-grade stainless steel, incorporating tactile navigation, thus flexible and easy to use.
• No batteries: batteries can present challenges in terms of recharging and maintenance. The DynaVap M 2021 features mechanical heating.
• Fast heating. The device has been optimized for the fast conversion of your dry herb into a delicious and lightweight vapor. It takes less than 10 seconds to heat and release.
How to Use the DynaVap M 2021
This vaporizer has a simple and elegant design, as the manufacturer is aiming to score convenience points. And so, even a novice can use this vaporizer properly on their first try. The first step involves detaching the cap. Next, fill out the heating chamber with finely ground herb, making sure to pack it carefully. Install the cap back on, seal the air openings, and hold the heating chamber against the heat as you slowly turn the device around. The device will sound a click to alert you that the vapor is ready. If you're a beginner, you should start vaping when you hear the first click, and if you're a veteran, you can wait for the second click. Once you're done vaporizing, you can jettison the dry herb with ease, before placing the next installment.
DynaVap M 2021 Design
Some of the features of the latest DynaVap model are borrowed from previous models. The signature design statement of this vaporizer is the independence from the electric supply. It doesn't feature any electronic parts, thus you're not susceptible to failures, but all you need is an independent heat source. To enjoy an amazing, lightweight flavor, the best heat sources are torches and induction heaters.
This vaporizer is designed for vaping dry herb and concentrates. It has a close resemblance to cigarettes, which makes it a great alternative to smoking. Designed for fast heating, it vaporizes dry herbs and concentrates at appreciably lower temperatures, thus preserving the integrity of active compounds. Although it utilizes a mechanical heat source, the DynaVap is fast, producing steady vape clouds in around eight seconds.
The DynaVap vaporizer is designed for the slow-burning of your resources. It's made of medical-grade stainless steel, with perfect contouring that enhances gripping, modulated airflow, and a dosing chamber that doubles up as a grinder. The adjustable bowl allows for micro-dosing.
Heating the Cap
The DynaVap vaporizer relies on mechanical heat to produce vapor. Placing the flame in the heating chamber unlocks the vapor, but the vapor quality is significantly improved when you understand precisely where to heat. The device tip, or the cap, is the ideal part to heat. You shouldn't hold it still, but you should turn it about gently, spreading the heat even. Once the cap is optimally heated, the device usually sounds a click, which is your cue to start vaping.
Temperature Regulation
One of the advantages of battery-powered vaping devices is that you can set the desired temperature, and the vaporizer adheres to your settings. This model may not be powered by batteries, but it still has temperature regulation features. For one, it's designed for fast results, meaning you won't hold your torch to the heating chamber for long. The vapor clouds are released within a short time of applying heat, and it's designed to enhance vapor integrity.
Vapor Quality
Every person that likes vaporizing cannabis is looking to enjoy that sumptuous lightweight vapor that coasts to the lungs before activating a mental buzz. And so, when assessing a vaporizer, the vapor quality cannot be excluded from the equation. The DynaVap M 2021 is noted for producing top-tier vapor. Whether you load the bowl with tiny or large resources, the heating chamber makes for even burning of these resources, converting them into a quality vapor. Unlike pipes and joints, which produce thick and harsh smoke that can potentially irritate the throat, this vaporizer produces a soft vapor that doesn't sock the throat, thus it's ideal for newbies who are still not decided on their favorite accessories.
Micro Dosing
If you're a veteran consumer of a psychoactive substance, you probably consume high dosages. However, if you're a novice, it's recommended to start with small dosages, as this allows you to explore its range of positive benefits, while at the same time avoiding being overwhelmed. Thus, it's important to use accessories that enhance the consumption of small dosages. The DynaVap M 2021 incorporates a small chamber that makes it possible to micro-dose. It allows you to enjoy your favorite dry herb and concentrates at minimal levels.
How to Clean the Vaporizer
Whether your vaping needs are small or large, you need to maintain high standards of vaporizer cleanliness. The DynaVap M 2021 has a simple design that makes it easy to clean. First off, you detach the removable parts and soak them in isopropyl alcohol. If the parts of the vaporizer are stained, you can use cleaning sticks or cleaning wipes to rub them clean. Rinse the vaporizer parts in warm water and air-dry them. Afterward, put them carefully back together, so that you enjoy taking your delicious vapor hits.
DynaVap Induction Heater
Some people like everything about the DynaVap M 2021 vaporizer, except the idea of using a butane torch. The induction heaters are the perfect replacement for torches. Induction heaters have a sleek and bigger build than torches and are excellent in providing a smooth, fast, and consistent vapor. Induction heaters are clean and cost-effective, and they comprise elements that eliminate hot spots and produce delicious vape hits. To use the induction heater, you turn it on, and once the red heating light appears, you install the vaporizer and press it down. When the vaporizer cap sounds a click, you know you're ready to take vape hits. The induction heater is fast, as it achieves desired results in less than 10 minutes.
Popular DynaVap M 2021 Accessories
The DynaVap M 2021 vaporizer might have a small and compact build, but different elements work jointly to make it sleek and powerful. And so, if the vaporizer isn't working as it should, it could mean that one of its parts needs to be replaced. For instance, if the vaporizer fails to sound a click even after heating the tip sufficiently, you probably need to replace the cap. The following are some of the popular accessories for the DynaVap M 2021 vaporizer.
The Perforated Cap: the cap is one of the critical parts of the DynaVap vaporizer. It regulates the activities of the heating chamber and alerts you with a click when your dry herb has been heated adequately. The elongated side of the perforated cap might be helpful when packing dry herb into the heating chamber.
DynaCoil: DynaVap vaporizers are not built to vaporize just dry herb. They can vaporize concentrates as well. Many cannabis consumers enjoy vaporizing concentrated cannabis forms like wax and shatter. Concentrates typically contain higher levels of active ingredients, and upon vaporization, they produce a lightweight and delicious vapor. And so, by installing the DynaCoil, it adapts the DynaVap vaporizer for concentrate use.
Condenser O-Ring Kit: these rings are installed on the condenser leading to the mouthpiece, and they enhance the vaping experience.
The Takeaway: DynaVap M 2021 Vaporizer
This vaporizer utilizes mechanical heating to deliver fantastic vape hits. With a small and compact build, and flawless contours that enhance gripping, the DynaVap M 2021 is optimized for the production of quality vape clouds. It is designed for easy handling, and it has climate-friendly and full steam development features. You can buy the DynaVap M 2021 vaporizer at the best price from our shop.