NIDO ONE - Hydroponic Automation Review
Nido is the brain behind your production. It monitors your greenhouse 24/7, collects data, and sends early warning alerts when things go wrong. The next generation of our groundbreaking technology allows you to automate your greenhouse in just a few simple steps via smartphone/tablet control. With automation features explicitly designed for your greenhouse, Nido extends the life of your crop and ensures more consistent harvests while it reduces labour costs.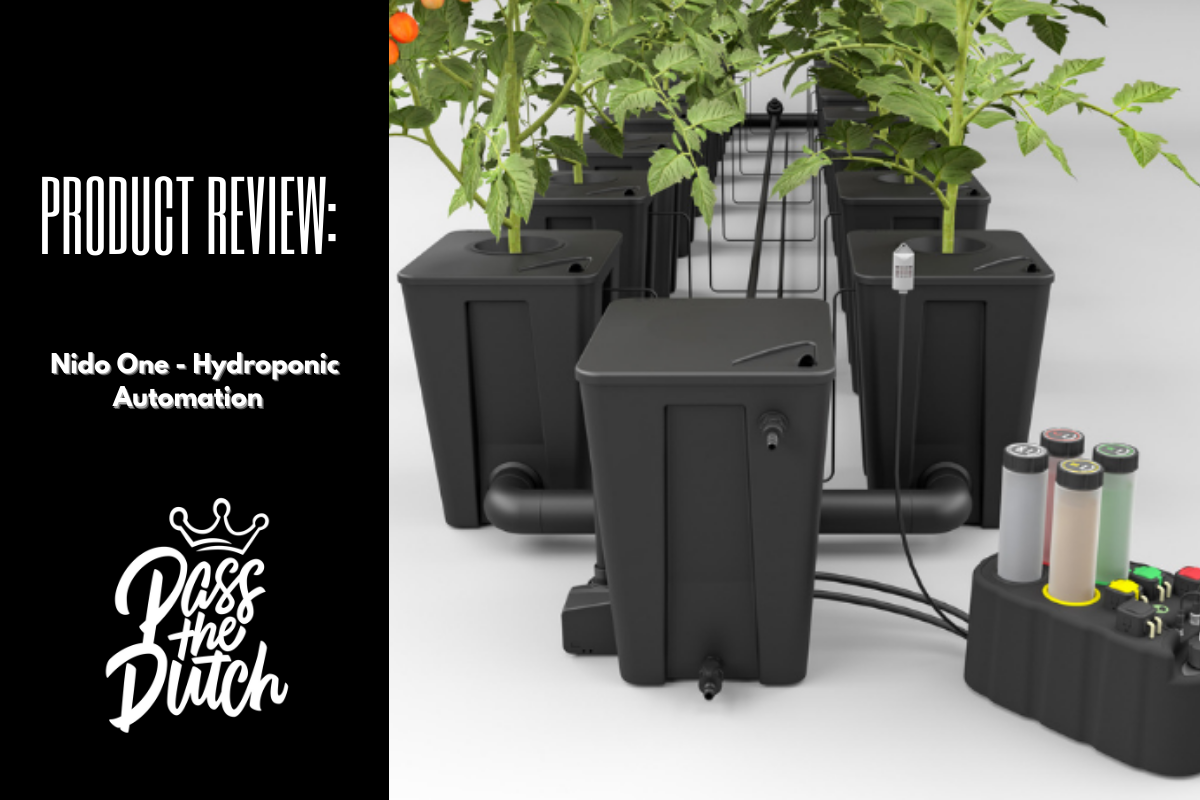 Design and aesthetics of NIDO ONE
The NIDO ONE automation controller uses a touch display interface to easily access your set points and parameters for leak detection, nutrient timer, pH targeting, EC monitoring and alarms. The automation scheduler allows you to automate your entire grow cycle based on interference or override. The user-friendly menus ensure easy setup and adjustment of your system.
NIDO ONE can be used in any combination with other module types to meet any grow room's needs. It is ideal for any solution above ground up to 2500 litres of total water in the system with no compatibility limits. NIDO ONE offers customizable programs, networking features and web/mobile applications for monitoring and management.
The NIDO ONE is ideal for hobbyists or commercial growers seeking to upscale their grow operations. With pinpoint accuracy on LED lighting, airflow control, and the ability to configure your growth operation on your phone or computer, the system makes it easy for anyone to grow like an expert. And with the ability to keep the operating costs extremely low, growing hydroponically can be more affordable than you think.
NIDO ONE's intelligent sensors and various modes of operation
Nido implements a system for gaining optimal efficiency from the growing conditions themselves. It localizes climate management, and through the sophisticated use of sensors and controlling electronics, it makes a reliable prediction of the state of your plants and how to adjust your climate to the needs.
The NIDO ONE is also a platform for building your hydroponic system. It intelligently controls and maintains the optimal ranges of the nutrient solution of your hydroponic system, maintains the pH- and up to 3 independent fertilizers. Through its advanced technology, NIDO ONE provides many functions and options you haven't found elsewhere in the market yet.
Operating and controlling your hydroponic system is easy with the NIDO ONE controller installed and connected to your network. All that is needed is to select the plant you would like to take care of, select the desired season or time of day, then switch on/off the watering program. The smart sensors will continuously monitor the pH level in the nutrient solution, light intensity, air humidity, water temperature, CO2 level etc.
Simply connect a NIDO Smart Plug to a lamp or other 110/220 Volt device and a Wi-Fi router. The NIDO smartphone or tablet app switches among modes of operation, adjust the lamp's light spectrum and intensity. You can manage multiple devices from a single app, save your settings and use them at any time.
A promising automated solution for growing hydroponic systems
NIDO ONE was designed from the ground up as a complete automated heater and humidifier. It comes with a temperature and humidity sensor, so you can directly measure your environment, as well as a probe to measure the temperature of the nutrient solution. NIDO ONE was designed to easily fit on your hydroponic system or reservoir without sacrificing features or quality.