Top 5 Bongs to buy in South Africa
Bongs are some of the most popular smoking equipment. They provide an instant hit, are easy to use, and come in various new designs and styles. However, shopping for new bongs can be pretty overwhelming with so many products on offer.
Many smokers also prefer to use a bong simply because it offers a healthier way of smoking marijuana. Typically, smoking marijuana through a bong is cleaner, and you will find that you don't cough as much. It's also great for saving your weed by filtering out all of the plant matter.
If you like to take a few hits when you're chilling out at home, then you may want to upgrade your current pipe/bong. There are so many factors (color, shape, size, material etc.) to consider when choosing a new water pipe. But it doesn't have to be a challenge! We've picked our top 5 bongs to buy in South Africa for easy-going smokers. Let's get a blast together.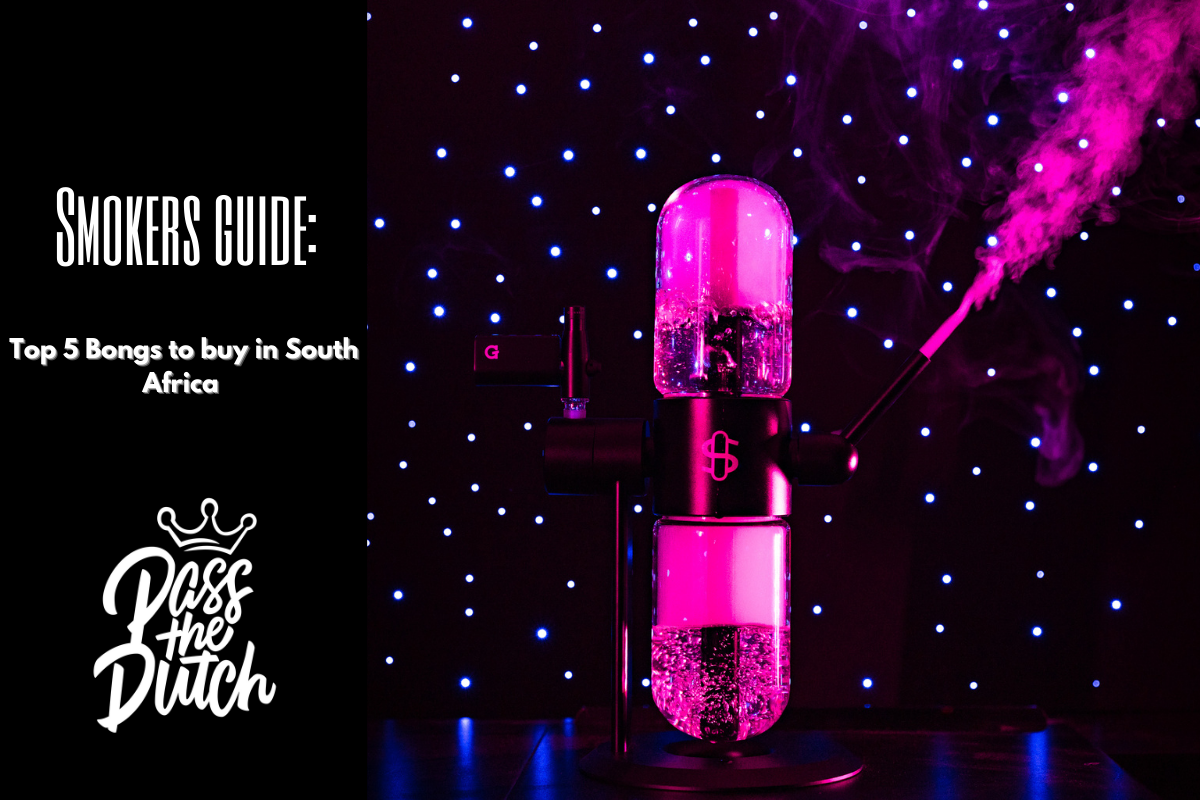 1. Amsterdam bouncer Rasta bong gift set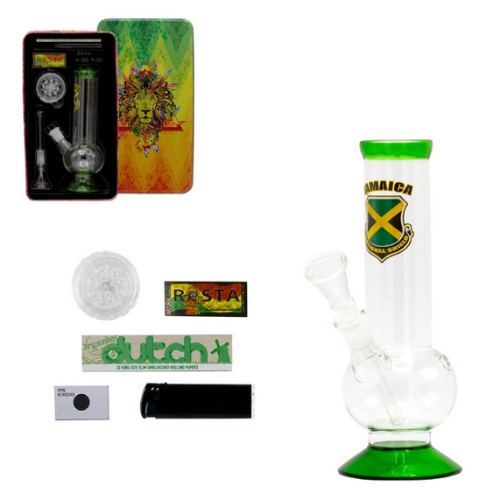 The Amsterdam Bouncer Rasta Bong Gift Set includes a 5cm thick beaker base bong with colored decal decorations. The piece comes into its own with the accompanying multi-piece percolator. This helps to filter smoke and cool it before it reaches your lungs.
Rasta Bong has been missing from the South African cannabis market for a very long time. It is about time someone had the vision to bring it! The Rasta bong gift set includes a removable down stem and bowl. It comes with many extra items such as a glass nail Rasta colored glass bowl, "chamber slammer" used to open the chamber, and a "treeper" for tree diffusers. This set is perfect as a Rasta Hippie Gift Set for all of your Rastafarian friends.
2. Black Leaf "Smoke Shower" glass bong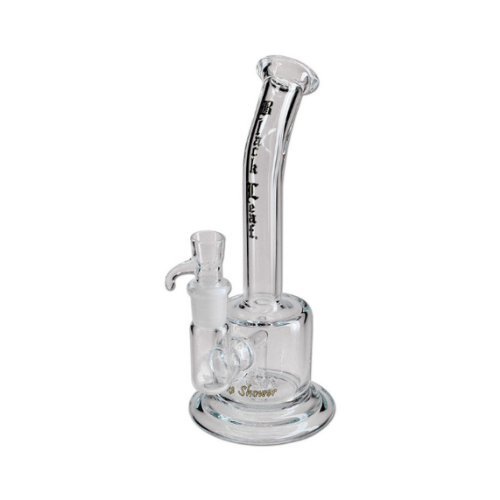 The Black Leaf "smoke shower" bong is made of high-quality glass and has a sturdy design. It consists of a stationary bottom part, a straight tube with a bend at the end, and a mouthpiece.
It stands at approximately 250mm tall. The mouthpiece and the joint parts between the upper tube and lower bowl have stable 4mm thick glass filters in place. The joint parts are also reinforced with black Leaf logos on them. In addition to that, this bong is equipped with ice notches filled with small pieces of ice cubes.
3. Grace Glass "Art series Skulls N Roses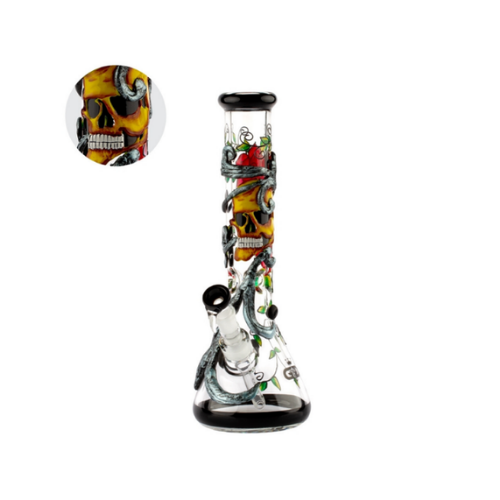 The Grace Glass Art Series Skulls and Roses Bong is not your typical bong. The fact that it has a skull-shaped base is enough to get your attention from the first time!
Made in Germany, this bong's simple yet lovely design is made up of 9mm thick, high-quality borosilicate glass, making it easy to clean; use hot water and soap!
It also comes with a 29.2 mm > 18.8 mm female bowl slide, which means it will easily accommodate any of your favorite smoking bowls. Their ethos is to keep it simple, keep it clear – that's what we love about Grace Glass.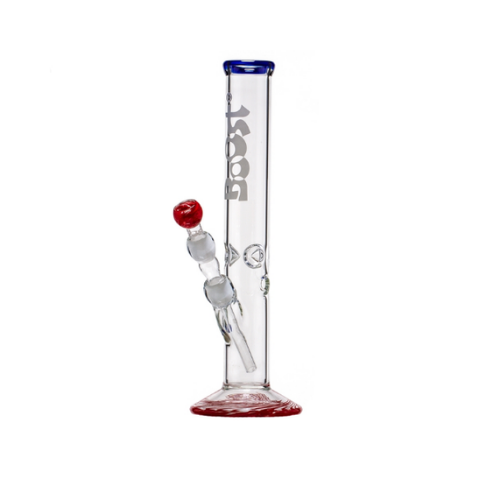 The Boost glass bong is the best in its class. It has a great looking design, and the build quality is excellent. The material used to make this piece is thick—something you'll not find anywhere else. If you need quality glass bong and don't want to break the bank, Boost is the one for you.
This is probably one of the very best bongs in our shop. It's a 380mm Boost Cane Glass Bong, with a sure ground of 18.8mm diameter. This pretty much means no percolator attached to the bong, but it does have a diffuser instead. That makes it easier on the lungs for apparent reasons. This piece also comes with herb bowl and a down stem.
Boost bong will look great on any shelf! The conveniently placed ice notches will keep your smoke cooled for longer, and the kick hole will offer you a different pull angle! The Boost logo features along the tube in white, and a blue mouthpiece ring finishes it off.
5. Stündenglass Gravity Hookah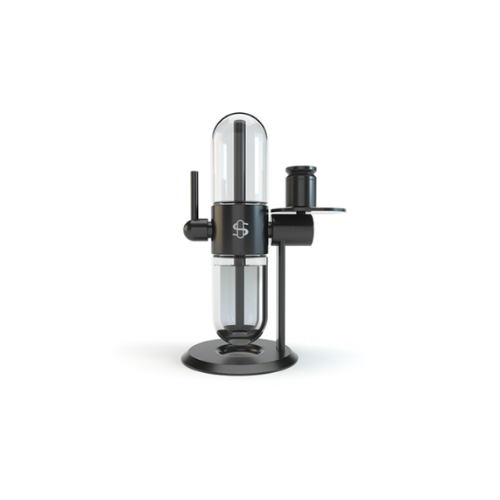 This sophisticated glass hookah will elevate your session like no other. With its sturdy and classy build, it allows you to smoke and vaporize your green resources cozily. It has airflow technology and water displacement properties that make your tokes swift and flavorful.
This gravity hookah is complete with an aluminum hookah bowl kit and a glass bowl, and it supports smoking and vaporization. You may use the silicone hose for direct tokes or you may adjust the mouthpiece to ensure you're comfy.