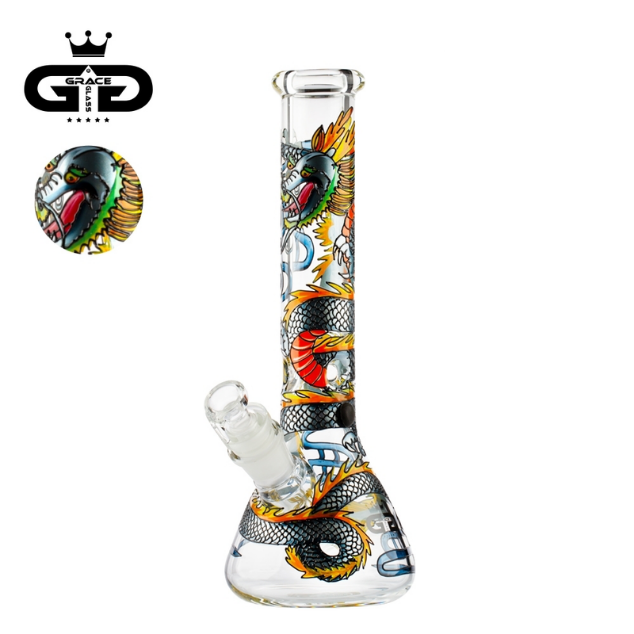 Send this to a friend
ART Series Dragon Bong
Product details
This amazing piece from Grace Glass Art series is a straight beaker built with 7mm high quality borosilicate glass. With a height of 32cm this model is decorated with a beautiful dragon 3d printed, handmade. Equipped with 3 ice notches for a smoother session, a diffused downstem (18.8mm) and handle bowl (18.8mm).
Additional Information




| | |
| --- | --- |
| Brand | Grace Glass |
| Material | Borosilicate Glass |
| Height | 320mm |
| Diameter | 50mm |
| Standard grinding | SG 18,8mm |
| Wallthickness | 7mm |
| Ice | yes |
| Kickhole | yes |
| Perculator/Diffusor | Slit Diffusor |
| Coloured | yes |
| Print | yes |
| Oil | no |
| Colour | mixed |
Product reviews
2 reviews
Solid bong taken a few knocks no scratches or breakage, undeniably smooth and just overall high quality glass. My order came exactly when specified and was packaged with care. Would recommend
I've had mine for the past two months and I can say that it passed the test of making me feel like an absolute badass. The dragon is hand painted and you can see the brush strokes which makes it all that much more special than some generic bong you sneaky buy at a dodgy garage in the middle of some industrial area. I'd recommend it for it's streamline design and the smoothness of which it puts smoke into your lungs. One month in, however, the little glass handle on the bowl snapped off. I did handle Puff with absolute care so I'm not 100% sure if it was a fault in manufacturing or if I pulled on it at the wrong angle too much. After that nothing else bad has happened but it doesn't seem like there is anything else wrong.