LIMITED EDITION Pinktrix Bong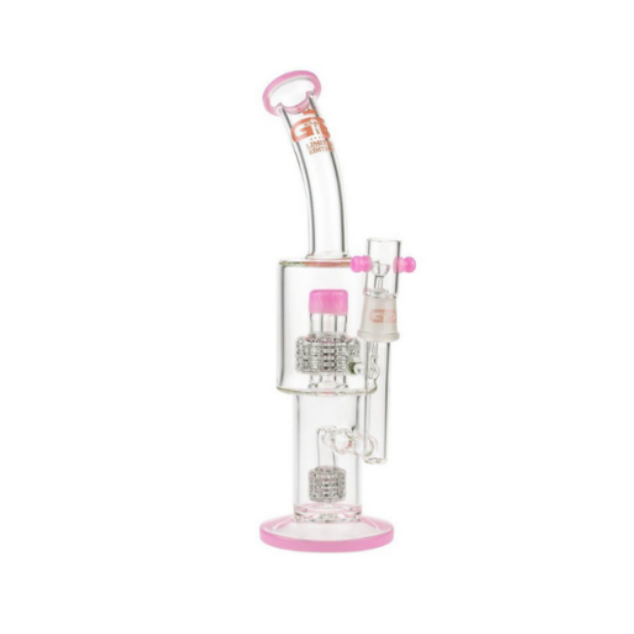 Send this to a friend
LIMITED EDITION Pinktrix Bong
Product details
The Limited Edition Grace Glass Vapor Bong with Double Drum Diffuser is a great addition to your glass collection. Not just because of its stylish appearance, but also because of its amazing percolation. This percolator bong features a male 18.8mm joint and comes delivered as a complete set-up with a female 18.8mm flower bowl with handles, a 18.8mm female vapor dome with handles and a glass concentrate nail. The handles act as perfect roll stoppers and make removal and switching between bowls a lot easier.
The reinforced fixed downstem is equipped with a drum diffuser that breaks up the smoke into smaller particles. And if one isn't enough the smoke then travels through a second drum diffuser that divides the smoke further into an even larger amount of bubbles, which refines the smoke and cools it down remarkably. This results in a silky smooth toke that is packed with flavor and much easier on the throat and lungs.
The Limited Edition Grace Glass bong is made of high-quality, heat resistant borosilicate glass and measures 30 cm (11.8 inches). This bong is decorated with matching pink details on the rim of the foot and mouthpiece. This percolator vapor bong by Grace Glass is equipped with a comfortable, flared mouthpiece with pink Grace Glass Limited Edition logo that provides you with a wonderful grip and an amazing smoking experience!
Additional Information




| | |
| --- | --- |
| Brand | Grace Glass |
| Material | Borosilicate Glass |
| Height | 300mm |
| Diameter | 50mm |
| Standard grinding | SG 19 (18,8mm) |
| Wallthickness | 5mm |
| Ice | no |
| Kickhole | no |
| Perculator/Diffuser | Double drum diffuser |
| Coloured | yes |
| Print | no |
| Oil | yes |
| Colour | clear/pink |
Product reviews
Be the first to review this product.