OG Series Perfect Grip Bong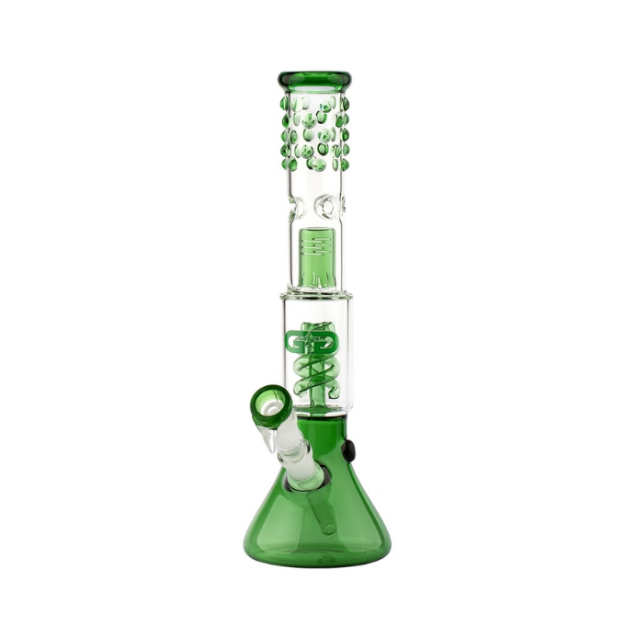 Send this to a friend
OG Series Perfect Grip Bong
Product details
This green beaker Grace Glass bong is an excellent piece of glass art that can offer you a brilliant smoking experience! It is made of a high quality heat proof borosilicate glass, formed in the shape of a beaker base tube. Your precious herbs or tobacco are placed onto the green bowl, coming with a handle, for helping you lift it up and clean it at your convenience. The bowl connects to a detachable chillum through a sure ground of 18.8mm diameter. A green spiral percolator bubbles up your smoke, smoothing your toke, and a green splashguard in the shape of a dome prevents water from splashing in your mouth. Some ice noches will hold a few cubes, for cooling your smoke, and a kickhole with a rubber carb stopper will give you the option of enjoying a different pull angle! With the Grace Glass logo featuring on the perc chamber, the whole set-up ends up in a cosy mouthpiece ring through some beautifully shaped glass beads.
Additional Information




| | |
| --- | --- |
| Brand | Grace Glass |
| Material | Borosilicate Glass |
| Height | 350mm |
| Diameter | 55mm |
| Standard grinding | SG 19 (18,8mm) |
| Wallthickness | 5mm |
| Ice | yes |
| Kickhole | yes |
| Perculator/Diffusor | Spiral Perc |
| Coloured | yes |
| Print | no |
| Oil | no |
| Colour | clear/green |

Feefo Reviews

'Grace Glass' OG Series Perfect Grip Bong

It is my first bong and was super easy to use and gave some really big rips
Product reviews
Be the first to review this product.