MIGRO Aray 3 LED Grow Light - 270 Watt
MIGRO Aray 3 LED Grow Light - 270 Watt - MIGROLIGHT
MIGRO Aray 3 LED Grow Light - 270 Watt - MIGROLIGHT
---
Send this to a friend
MIGRO Aray 3 LED Grow Light - 270 Watt
Product details
The MIGRO ARAY 3 is a 270W LED grow light with 3 LED bars, a single driver with dimmer control and a 3.5m (12ft) long cable.
Suitable for flowering a 0.9m x 0.9m or 3ft x 3ft grow space
Flowering Coverage Up to 90cm x 90cm or (3ft x 3ft) up to 1m x 1m (3.5ft x3.5ft)
Vegging Coverage Up to 1.5m x 1.5m (5ft x 5ft)
Minimum Hanging Height 18cm (7")
Driver Dimming 10 to 100% PWM dimming
Dimmer Adjustment:
Seedlings (up to 3 weeks old): 30% 
Early Vegetative phase (3 to 5 weeks old): Increase from 50% to 80% 
Late Veg and Flower: 100%
Number of LED Bars 3
Light Dimensions 65cm x 56cm (26″ x 22″)
Power Consumed 270 watts
Voltage / Current 110V / 2.2 Amp; 220V / 1.2 Amp
Total PPF 729 µmols/sec (estimated)
Efficiency PPF/Watt 2.7 µmols/joule (estimated)
Full-Spectrum Seoul Semiconductor and Osram 66nm Reds 
LED Protection Acrylic conformal coating (waterproof)
Lifetime 50,000 hours (8.5 years @ 16hour/day)
Warranty 3 years
Hanging Weight 2.6Kg (5.7lbs)
Hanging System Cable hung on cable grip and ratchet hanger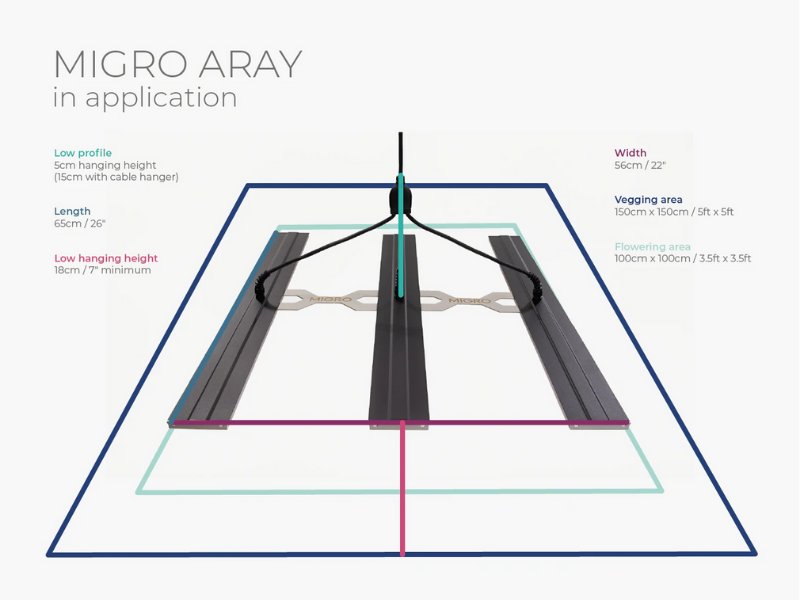 Facts not feelings
Somewhere along the way choosing a grow light got complicated.. We've spent the last 2 years listening to our fans (and critics) to understand their concerns and needs – simultaneously we've tested over 150 lights on the market today.
The MIGRO ARAY is designed to take the guess work out of picking the right grow light for you – better lighting performance with future proof extendability from the team here at MIGRO that you can trust.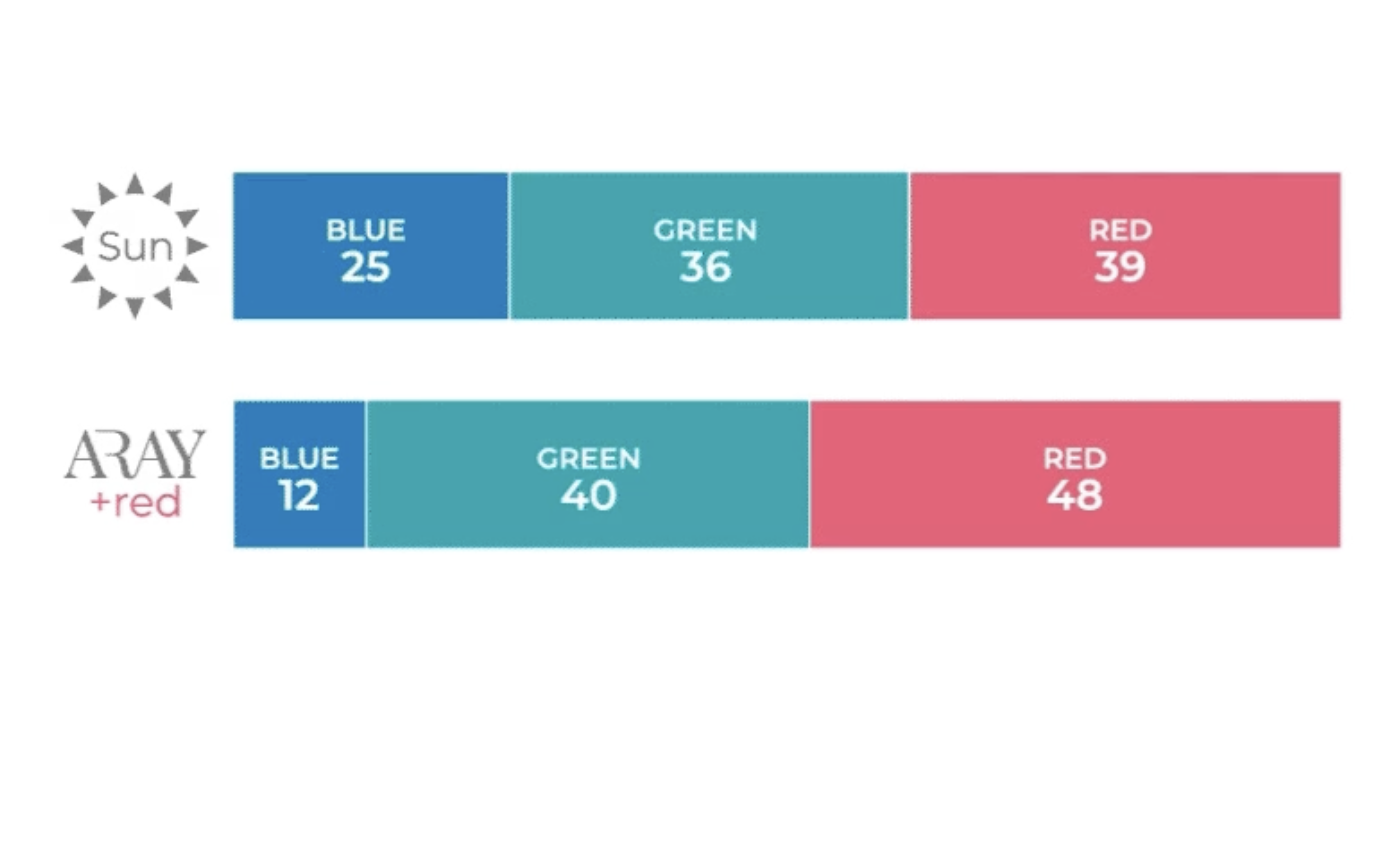 Inspired by Nature
The ARAY spectrum is designed for full cycle growth to generate tight, dense growth in the early vegetative stage and promotes vigorous growth with high concentration of flavonoids & terpenes in the flowering stage.
DIG DEEPER
Blue promotes short dense growth but is less photosynthetically effiient than other spectrum. A minimum of 10% is required for healthy plant development.
Green light penetrates the plant canopy and individual leaves adding to the overall photosynthetic efficiency of the spectrum.
Red light is most photosynthetically efficient and should be optimised to maximise yield potential.
ARAY Full spectrum is a white light 3500K colour temperature and 80CRI so you can inspect the health of your plants with clarity. We provide enough Blue light to regulate the plant development and generate short, dense growth. This means the ARAY spectrum is suitable as a veglight and a full cycle grow light.
Green is nearly as photosynthetically efficient as blue on it's own. However mixed with red and blue into white light the green will reach the chlorophyll deeper in the leaf and canopy to maximise overall photosynthesis.
Red is the most efficient for photosynthesis and should be maximised but has little effect on plantshape. However red light is the most efficiency photosynthetically and a higher proportion of it will increase the overall system efficiency and therefore increased yield.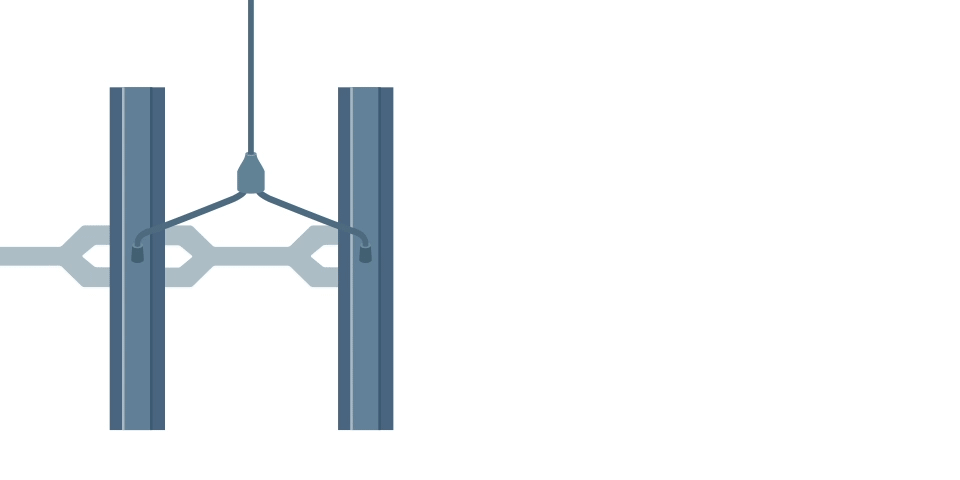 Modular - grows with you
Our grow light modules can be joined end to end or hung side by side to cover any sized grow space. Alternatively you can buy our grow light packages designed to maximise yield from the most popular grow tent sizes.
High efficiency for maximum yield
The ARAY is highly efficient, allowing more lightand yield generated for less power consumed - reducing electricity consumption and reducing heat levels in your grow room.
DIG DEEPER
The high efficiency of the MIGRO ARAY grow light system means you get more yield per watt than any previous generation grow light system. Higher effciciency also means lower heat and lower power consumed keeping you stealthy and safe.
The MIGRO ARAY LED bars are designed to generate the best system efficiency and even light coverage for your grow area. No hot spits and penetration deep into the corners to reduce stress and maximise yield potential from every plant.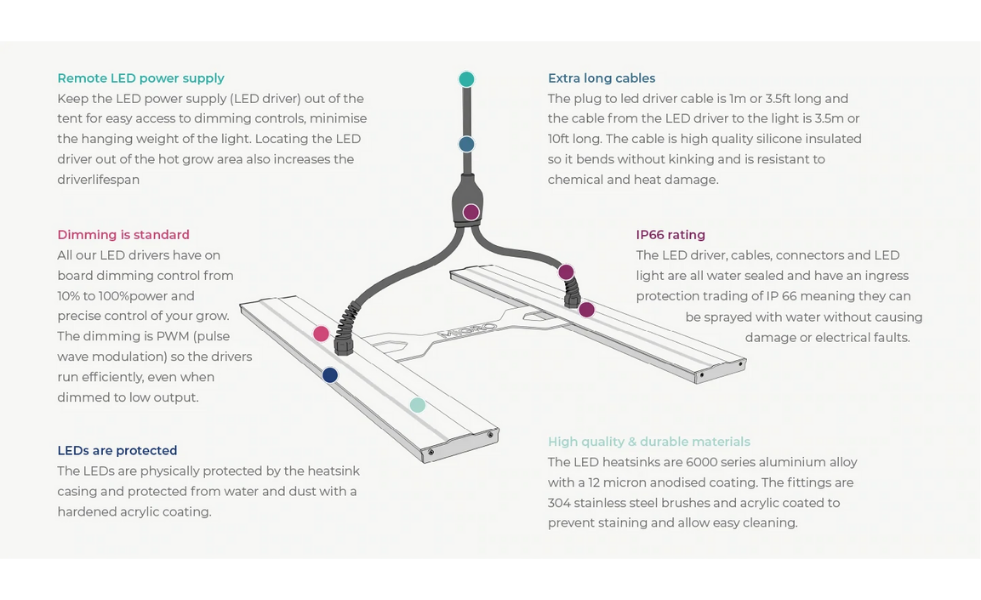 Product reviews
Be the first to review this product.