10 Pro LED Grow Light - 285 Watt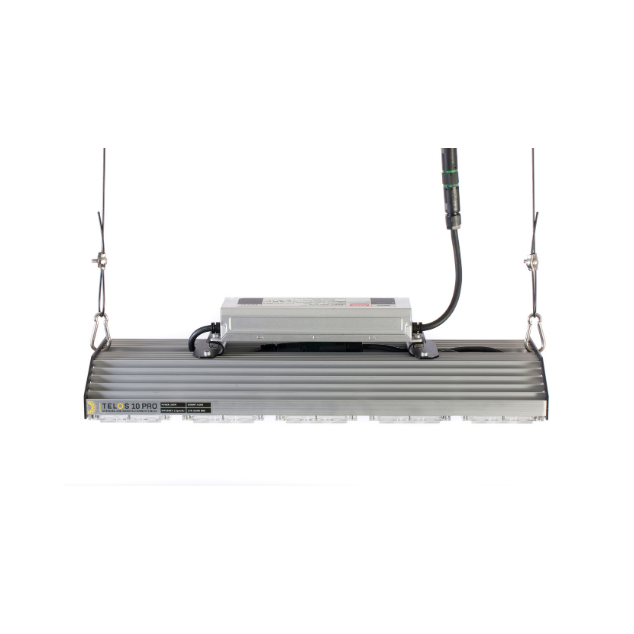 Send this to a friend
10 Pro LED Grow Light - 285 Watt
Product details
With a stellar PAR output, upgradable LED boards, and a generous lifetime, the Telos 10 Pro is a top-of-the-range luminaire. It has a sleek design, and thanks to natural convection, there's no need for a fan; this minimizes noise output and improves the lifespan.
Product Overview:
•    Incorporates the powerful OSRAM LED technology
•    Excellent PAR output: 2.5 µmol per Watt
•    High efficiency
•    Minimal noise output
•    Distinctive holographic optics for equalizing the distribution of light
•    Sturdy and highly durable: 85000 hours lifespan
•    Upgradable LED boards
•    Made in the UK by heavyweights
•    Suits 1.0m x 1.0m and 1.2m x 1.2m area
•    Three-year warranty
These feature-rich grow lights have numerous advantages, and they provide the needed leverage to boost plant health and maximize yield.
Powerful OSRAM LEDs
The grow lights incorporate the OSRAM LED modules, and this technology vastly increases the light intensity and also makes the system cooler by at least 10 degrees less than the previous model.
Even Distribution of Light
It's one thing to install grow lights, and it's another thing to have all your plants receive the light equally. The Telos 10 Pro incorporates unique holographic optics that increases the beam angle. This helps with extending the coverage and promoting even distribution of light.
High-grade Light
These grow lights generate 2.5μmol per Watt, making the quality of light superior, and the greater the quality of light, the greater the plant health and also yield.
Full-spectrum Light
The Telos 10 Pro mimics sunlight. Full-spectrum light is convenient throughout all plant stages. It promotes maximum C02 absorption and improves photosynthesis. The Telos 10 Pro can be deployed throughout a plant life cycle, which greatly helps with maximizing yield.
Low Energy Consumption
These grow lights produce outstanding lighting, but at the same time, the energy consumption is relatively low. Growers appreciate equipment that won't drive their expenses drastically high.
Low Heat Production
Excessive heat can be damaging to plants. It may cause problems like droopy leaves, leave scald, and in worst cases, stunted growth.  And so, grow lights that minimize heat output are favored. Their low heat production is especially beneficial during the summer. The Telos 10 Pro limits heat output.
High Performance and Durability
These grow lights are high performance and durable, with a lifespan of 85000 hours; nearly 10 years.  It's the culmination of research and innovation, the use of quality materials, technology leverage, and the involvement of experienced hands.
Waterproof and Dustproof
If the grow lights are fashioned with inferior components, soon they become faulty, since the grow room conditions are usually tough. But the Telos 10 Pro consists of high-grade components, and it's both waterproof and dustproof, providing excellent lighting.
Three-year Warranty
The manufacturer has 100% faith in this product, which is why they extend a three-year warranty to customers. The warranty encourages growers to invest in these high-performance grow lights without running into unexpected losses.
Minimal Noise Output and Passive Cooling
The unit operates with relative silence because of the absence of a fan. With reduced load, resources get preserved, and it prolongs the unit's life. It features a natural cooling system where the heat escapes via a heat sink.
Versatile Hanging System
Hanging systems are used for supporting the grow lights. The Telos 10 Pro comes with a hanging system that is both convenient and versatile. You can change the positions with little adjustments.
Sleek Design
The Telos 10 Pro is remarkable in terms of aesthetics. With a lustrous exterior, a refreshing and clean design, it's thanks to distinct components and modern branding. They add color to the grow room.
Upgradable Modular Design
Should the technology used in grow lights progress, as might likely happen, you won't be helpless. You may enhance the performance of your Telos 10 Pro by upgrading or replacing the LED modules.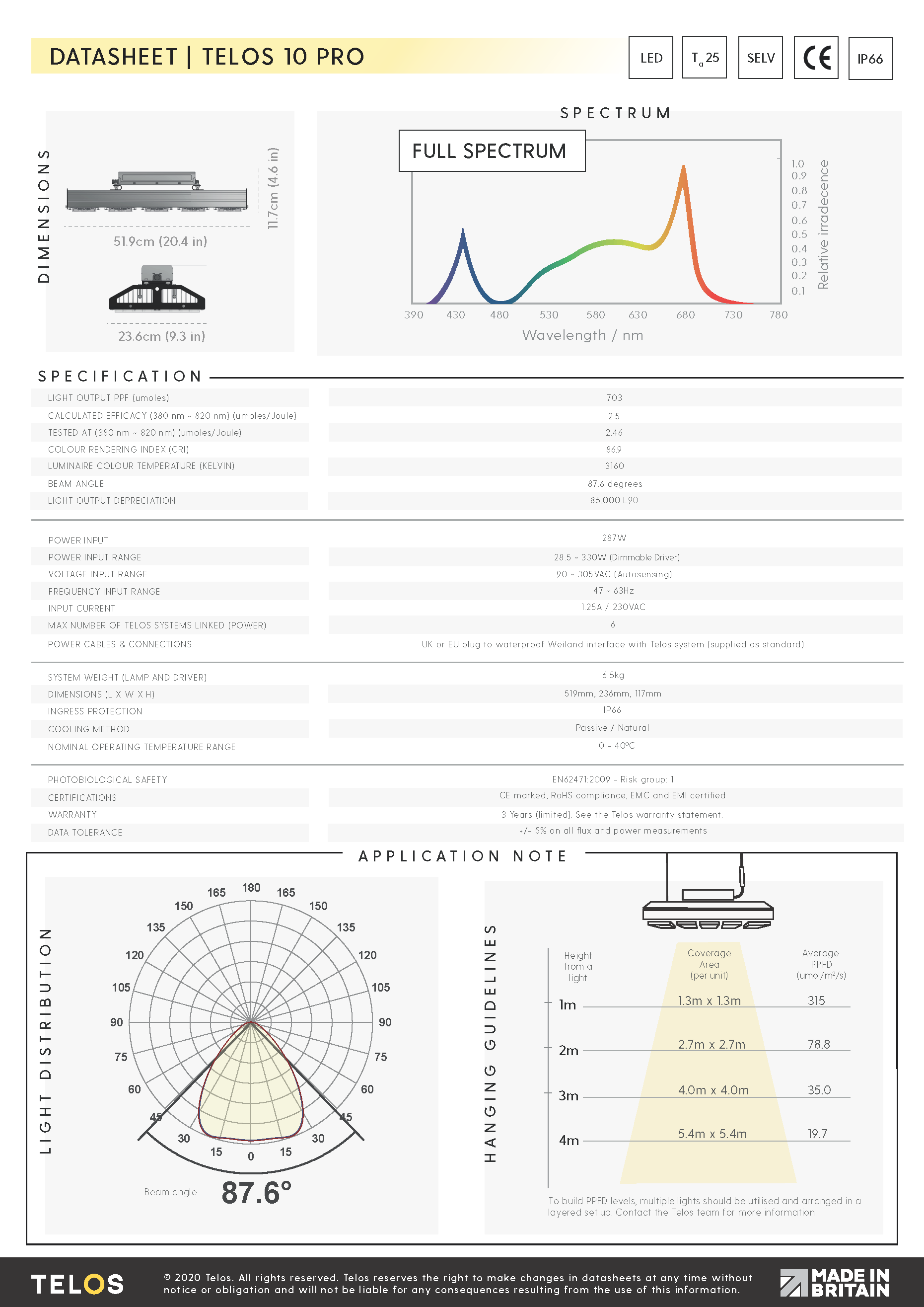 Product reviews
Be the first to review this product.