6 Pro LED Grow Light - 175 Watt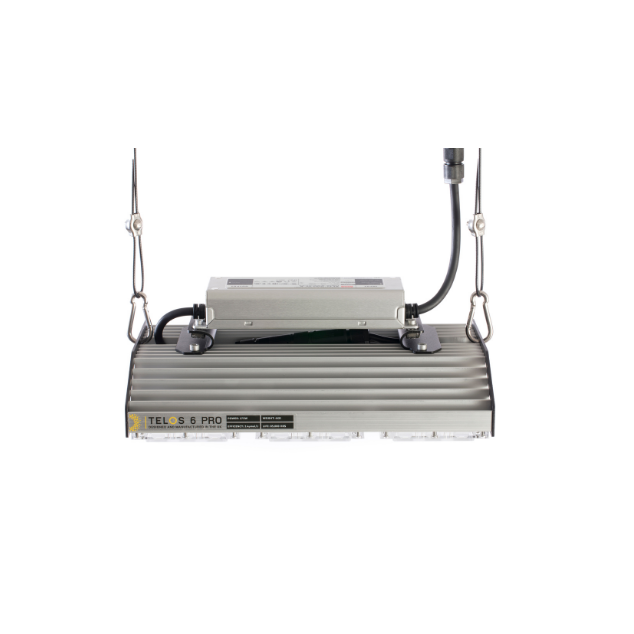 Send this to a friend
6 Pro LED Grow Light - 175 Watt
Product details
The Telos 6 Pro grow lights are noted for their energy conservation, holographic optics, and long lifespan. Made in the UK, these grow lights are powerful and feature-rich and are attracting undying success. Many growers leverage them to improve plant health and increase yield.
Product Overview:
•    Integrated with the powerful OSRAM LEDs
•    The LED modules can be upgraded or replaced
•    Waterproof and dustproof
•    Holographic optics for wide-angle light spread
•    Impressive 85000 hours (about 10 years) lifespan
•    Made in the UK
•    Passive cooling and minimal noise output
•    Suits 0.6m x 0.6m and 0.75m x 0.75m area
•    Stellar performance
•    Low energy consumption
•    Versatile hanging system
•    Three-year warranty
With its excellent performance, upgradable modular design, and impressive lifespan, the Telos 6 Pro has captured the fascination of many growers.
Top-tier Grow Lights
Telos has built a prestigious reputation by setting high standards for itself over the years. The Telos 6 Pro is a superior product with impressive light output and energy-saving properties.
Top Performance
The Telos 6 Pro doesn't include a fan. It uses passive natural convection to regulate temperatures. This design minimizes noise output and improves performance.
Full-spectrum Light
The radically enhanced full-spectrum light is typically used throughout the plant's life cycle. It is critical in raising plant health and potency and acquiring a massive yield.
Impressive Lifespan
Created with superb components, these grow lights are protected against water jets and dust particles, and they can provide light continuously for 85000 hours (approximately 10 years).
Upgradable Modular Design
The LED boards can either be upgraded or replaced. And so, if better technology comes along and you want to enhance your grow lights, you will just have to upgrade the LED modules.
Distinctive Holographic Optics
The unique holographic optics help with augmenting light coverage as well as promoting the even distribution of light. This ensures uniformity as far as improved plant health, potency, and yield.
Energy Conservation
The Telos 6 Pro consumes 175 Watts and generates 2.5 µmol per Watt. They have a low rate of energy consumption but a strong output. Growers are attracted to equipment that won't drive up electricity costs.
Waterproof and Dustproof
The environment of a grow room isn't exactly serene. There'll be small particles flying around, usually water and dust. The grow lights need to absorb the impact and not grow faulty. The Telos 6 Pro is both waterproof and dustproof, and always 100% efficient.
Minimal Noise Output
Grow lights that incorporate fans typically have a high noise output, but the Telos 6 Pro is fan-less, thus the unit works quietly.
Passive Cooling
The temperatures are regulated via passive natural convection. The unit cools down passively and naturally, thus resources are freed, and this makes for improved performance of the grow lights.
Outstanding Components
The grow lights consist of quality components. These components are well-researched and then tested and assembled in the UK. It explains why the grow lights perform so well.
Three-year Warranty
The grow lights come with a three-year warranty that protects the customer against an unexpected loss. It's also an indication that the product is of the greatest quality.
Amazing Design
Not every grower is too concerned about how a pair of grow lights might complement a grow room, but the Telos 6 Pro has an artistic touch. It's robust, slick, and regal. It beautifies an area.
Made in the UK
The UK is renowned for dominating this niche. These grow lights are created by some of the most skilled and experienced technicians. They come from a place of true passion and genius.
Lower Profile Design
Space is the most valuable thing in a grow room. The Telos 6 Pro has a lower profile design that creates more space for plant growth. This design also makes for easy handling.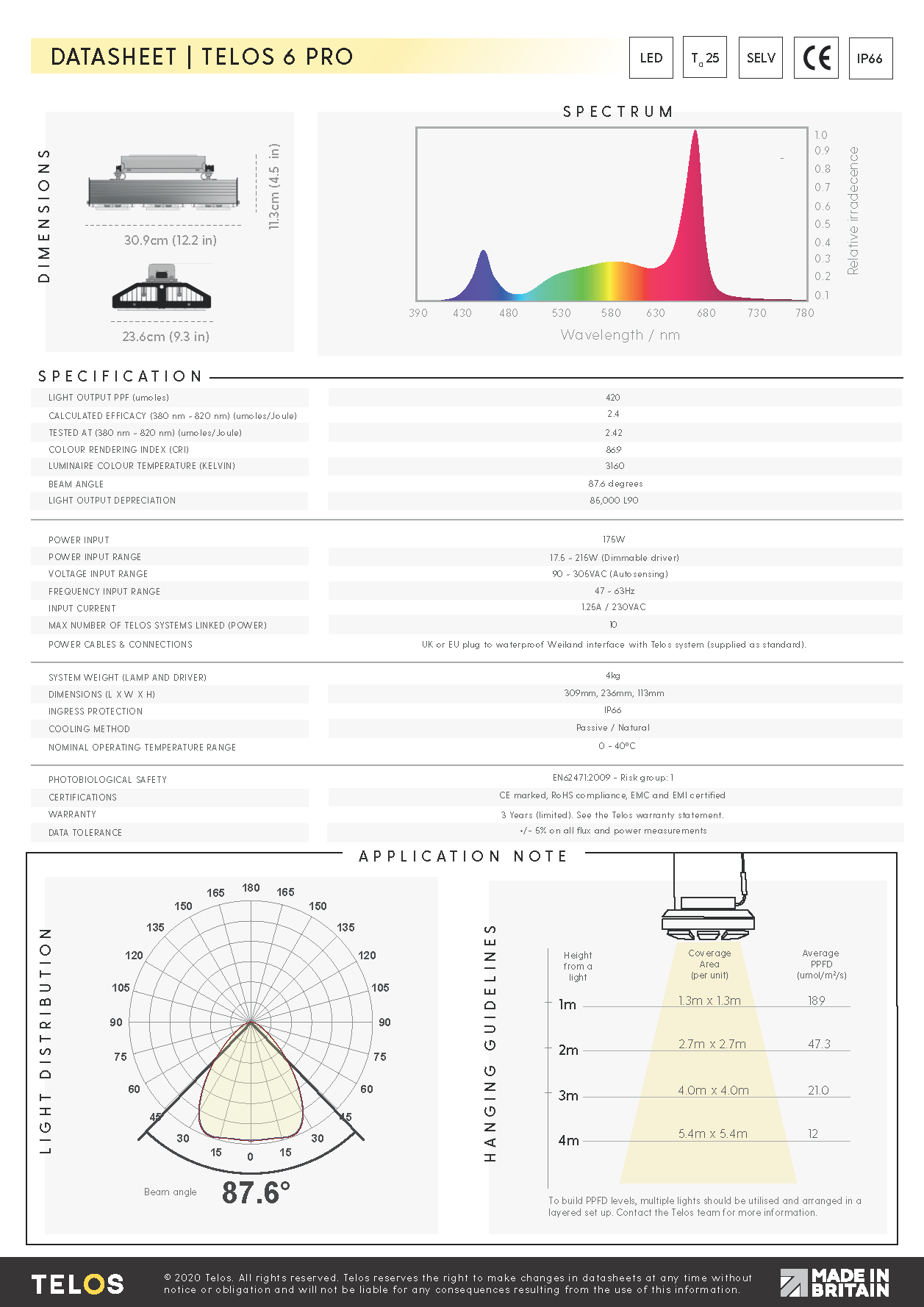 Product reviews
Be the first to review this product.