'Weedstar' Ape Bro Blue Glow Bong
'Weedstar' Ape Bro Blue Glow Bong
We're sorry we're out of stock, but we can let you know as soon as this product becomes available again.
Enter your details below and we'll email you once this item is back in stock.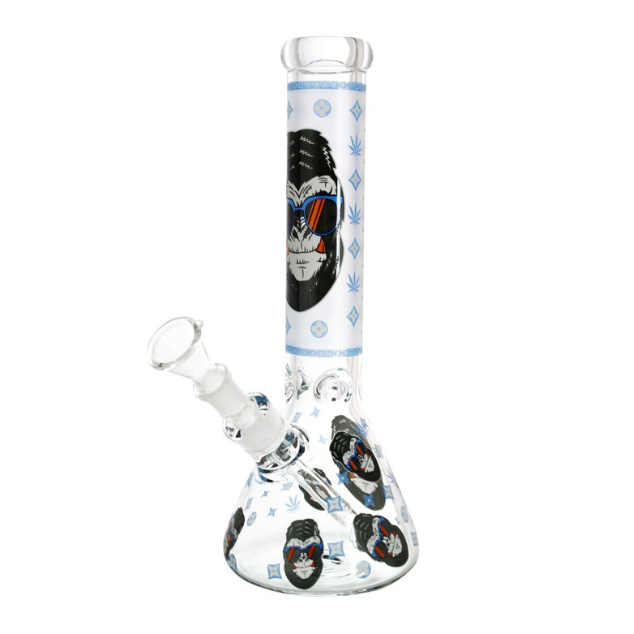 Send this product to a friend
'Weedstar' Ape Bro Blue Glow Bong R1,026.00
The monkeys are loose! Meet the Ape Bro Blue
The Ape Bro Blue features a Glow in the Dark motif. This can be found in the area of the beaker up to the lower area of the ice compartment as well as on the bong neck between the ice notches and the mouthpiece. It doesn't get any cooler than this - next to small blue hemp leaves and abstract shapes, the blue Ape Bro shows off his fat sunglasses. Are you cool enough for him?
To achieve the strongest and longest-lasting glowing effect, the bong should be exposed to direct sunlight or a strong light source for some time. The self-luminous effect works best in completely dark rooms. Under the influence of black light, this can be additionally intensified.
Glow in the Dark Beaker - bongs with glow effect
The Heisenberg beakers with glow effect are robust smoking devices with an 18.8 ground glass joint. With a total height of 35cm, they are comfortable to handle. The wall thickness of just under 5mm and the reinforced joint area make the beakers stable and reduce the risk of breakage, even if you put it down a little less gently.
Some ice notches in the bottom of the bong neck allow the glass tube to be filled with ice cubes or coarse crushed ice to give the smoke an extra kick of freshness.
Each beaker comes with an 18.8>18.8 diffuser chillum and a matching funnel bowl.
| | |
| --- | --- |
| Brand | Weedstar |
| Material | Borosilicate Glass |
| Height | 350mm |
| Diameter | 60mm |
| Standard grinding | SG 19 (18,8mm) Bistable |
| Wallthickness | 5mm |
| Ice | yes |
| Kickhole | no |
| Perculator/Diffusor | Inline Chillum - 12cm |
| Print | Ape Bro |
| Oil | no |
| Colour | Glow in the Dark |
Be the first to review this product.
Leave a review