'Whirlwind' Glass Bong with Turbine Blades
'Whirlwind' Glass Bong with Turbine Blades - BLACK LEAF
'Whirlwind' Glass Bong with Turbine Blades - BLACK LEAF
---
---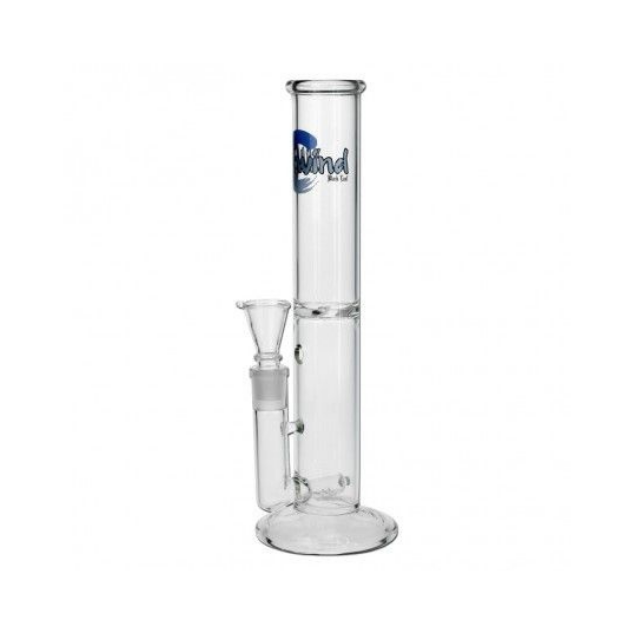 Send this to a friend
'Whirlwind' Glass Bong with Turbine Blades
Product details
The 'Black Leaf' Glass Bong with Turbine Blades 'Whirlwind' is a special bong that still manages to look simple and sleek. It is equipped with 5 'turbine blades'. When the smoke enters the bong, it is first diffused by the inline 3-slit diffuser. When it travels up through the water chamber, the smoke goes through the turbines blades which forces it to spin into a vortex. Thanks to the centrifugal forces, a large quantity of the impurities in the smoke (such as tar) gets stuck to the side of the bong, so that the smoke that goes up into your lungs is cleaner and less harmful.
Because this bong is made of borosilicate glass ("Scientific Glass" or "Laboratory Glass"), you can count on a strong, heat-resistant and scratch-resistant piece of glasswork. The height is 35 centimeters, and the bowl fits directly into the SG19 (18,8mm) bowl socket. There is no downstem: the smoke goes directly into the fixed tube that is attached to the inline slit diffuser inside the smoke chamber. Just beneath the turbine blades there is a kickhole (or carbhole) that lets you control the air and inhale every bit of smoke in the chamber at once for that final kick (hence the name 'kickhole'). If you've never smoked a bong with turbine blades, then you really should give it a try. 
.
Additional Information




| | |
| --- | --- |
| Brand | Black Leaf |
| Material | Borosilicate Glass |
| Height | 350mm |
| Standard grinding | SG 19 (18,8mm) |
| Wallthickness | 3mm |
| Ice | no |
| Kickhole | yes |
| Perculator/Diffusor | Turbine Blades |
| Print | yes |
| Oil | no |
| Colour | clear |
Product reviews
Be the first to review this product.